SHEN ZHEN KANGLIBANG SILICONE CO.,Ltd
E-Mail:sales@bondsil.com
TEL:86-0755-81478334
Address:H building, Xinwei the 3rd Industry Park, Dalang Street, Longhua District, Shenzhen, China. 
Silicone soft touch coating
Silicone soft touch coating
Model NO. CL-24W
Price:USD 1.00-2.00 / ton
Minimum order quantity:1 ton
Accept Min order:Yes
Supply Ability:100 ton / Month
Country of Origin:FOB
Product Description
Place of Origin:CN;GUA
Classification:Volatile Solvent Adhesives
CAS No.:67763-03-5
Brand Name:KANGLIBANG
Other Names:Heat curing silicone adhesive
Main Raw Material:Silicone
Model Number:CL-24W
Usage:Construction
Usage:Fiber & Garment
Usage:Footwear & Leather
Usage:Packing
Usage:Transportation
Usage:Woodworking
MF:H4Si
Usage:Kitchen ware
Name:Silicone soft touch coating
Application:Kitchen ware,stainless steel and iron
Appearance:Transparent
Drying condition:Natual 30 minute
Crosslink temperature:170℃
Temperature resistance:-60~280℃
Certificates:FDA | RoHs | CE | MSDS | REACH....
Feature:Water resistance and high temperature resistance
Origin:Shenzhen, China
Load Port:Shenzhen, China
Silicone soft touch coating
Model No.:CL-24 |  CL-24B  | CL-24S-1 | CL-24S-2 | CL-24W | CL-24C | CL-26J
Method of application:
•Surface treatment: Degreasing the raw material with blast sanding,polishing or washed with iudustrial alcohol
•Gluing: Brush painting/coating, dipping or spray painting/coating.
•Drying condition: Dry and room temp for 5min.
  Note:Nylon and Bakelite need baking 5~15min at 90°C.
•After treatment:  Adhesive bonding asap after glued at the same day.
•Vulcanizing: The adhesive can be cured accordance with itself curing condition on first step.and the tempreture max. at 150°C (300°F) for 5~15 minutes on the second step of curing.
Tips:   
•  To be kept at cool, dry and far away from the heat and fire.  
• Pls fasten down the the cover after using to avoid the sovlent volatilizing.           
•  Less contact and irritate nose and throat in one ventilation and fire protection area. 
• Lightly cloudy won't affect theperformance.
>>>Application
>>> Typical Properties Data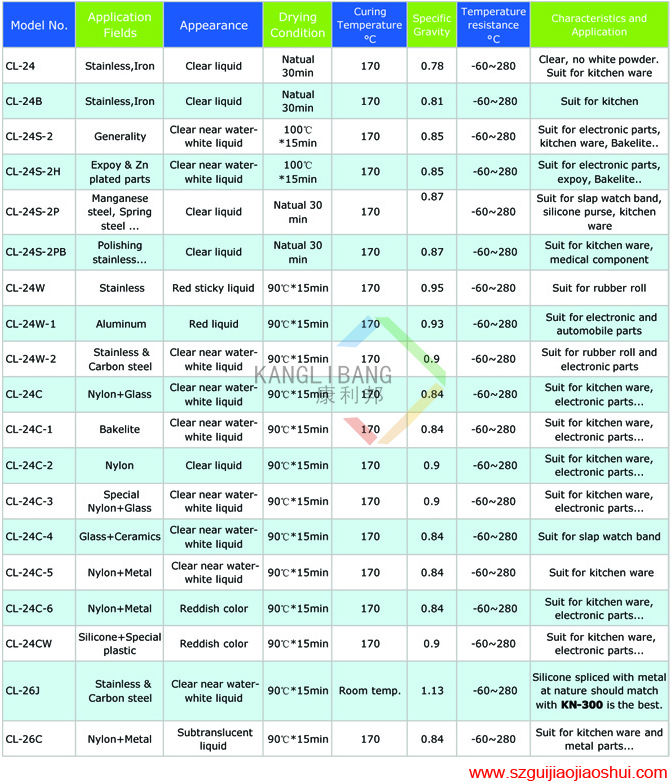 >>> Certificates
>>> Why choose KANGLIBANG silicone adhesive
Customer Feedback:
We are happy with KANGLIBANG silicone adhesive and quality. I've also been very happy with your best service, let's continue discussions and work on more.  
Order infomation:
MOQ: 1000kg
Trade term: FOB Shenzhen
Delivery time: 5-7 working days for sample order, 7-15 working days for mass order. INQUIRYNOW.